May 2020
You are reading our monthly Transparency Report series. Past Transparency Reports can be accessed here: Q1 2020, April 2020.
The goal of our transparency reports is to take you along the journey of growing our new software products (Wild Mail & Wildmetrics) from €10,000 MRR to €50,000 MRR.
As of May 31st 2020, we are at €12,667. That's 25% of our target revenue. Great!
If you're new to Wild Audience, here's what we do in one sentence: At Wild Audience we help companies build authentic relationships with marketing automation to grow their business.
This month has definitely been an interesting one.
In terms of growth, it was slow and frustrating (for reasons I'll explain later). But as a team, we achieved so much and reflected a lot too. 🙂
Transparency Report:
Revenue
Our MRR at the end of May 2020 was €12,677 which is a 4.29% increase over April 2020.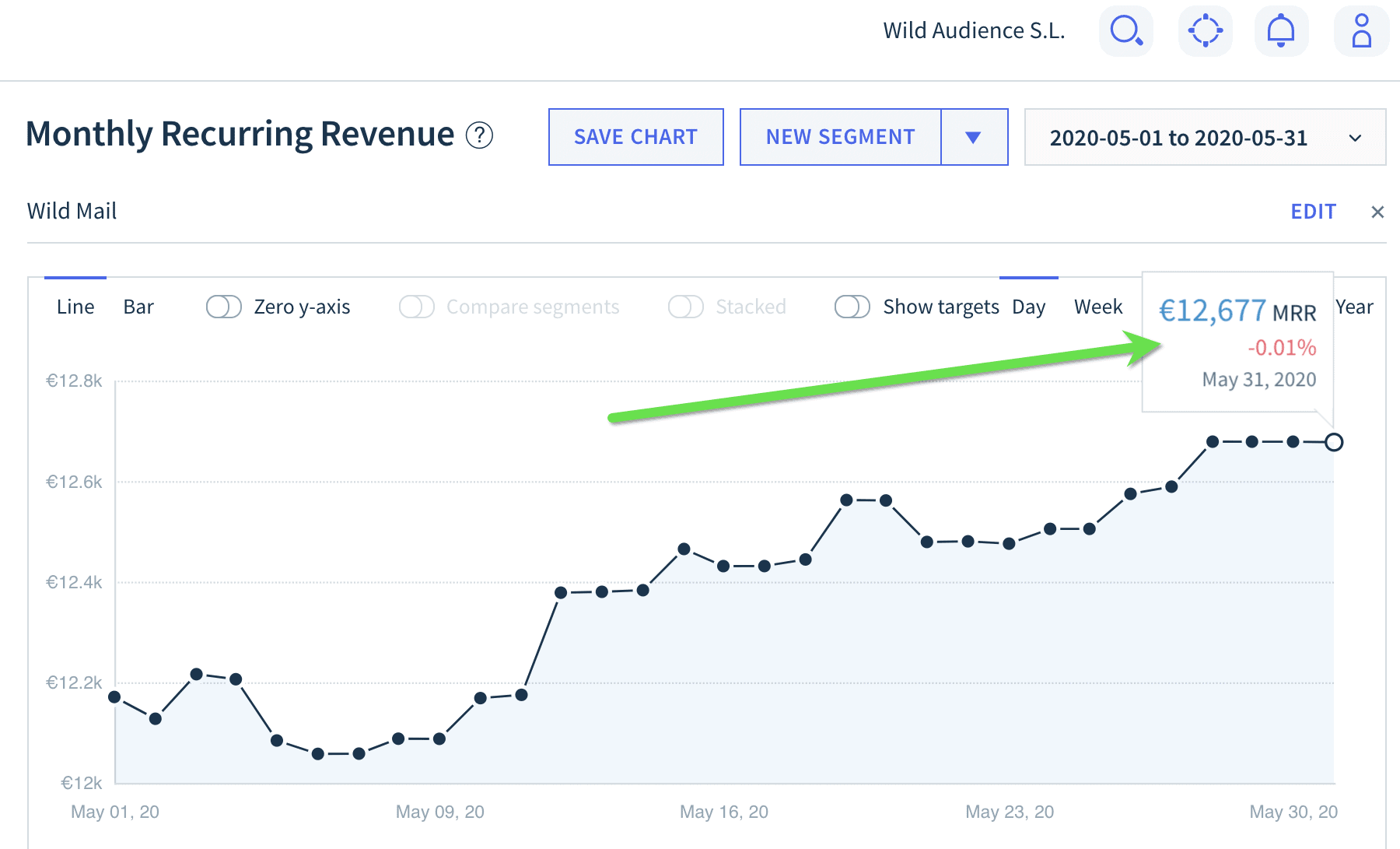 May was definitely a slower month for us and to be honest, it was not as good as we hoped for. Let's put the 4.29% in comparison to previous months:
That's an average month-to-month MRR growth rate of 10.89%.
Meaning our May growth rate was well below average. Here are two reasons why I believe our growth performance was below average:
(A) In May we had smaller deal sizes compared to April. The difference in ASP (average sales price) was almost €20 per account. Even though we onboarded in May only 5 customers less than in April, due to the smaller account sizes our New Business MRR in May was 50% less compared to the previous month.
In other words, we usually close a few bigger accounts – €250 MRR and up – per month but this month we did not close any big accounts. That explains our lower ASP and also smaller MRR growth.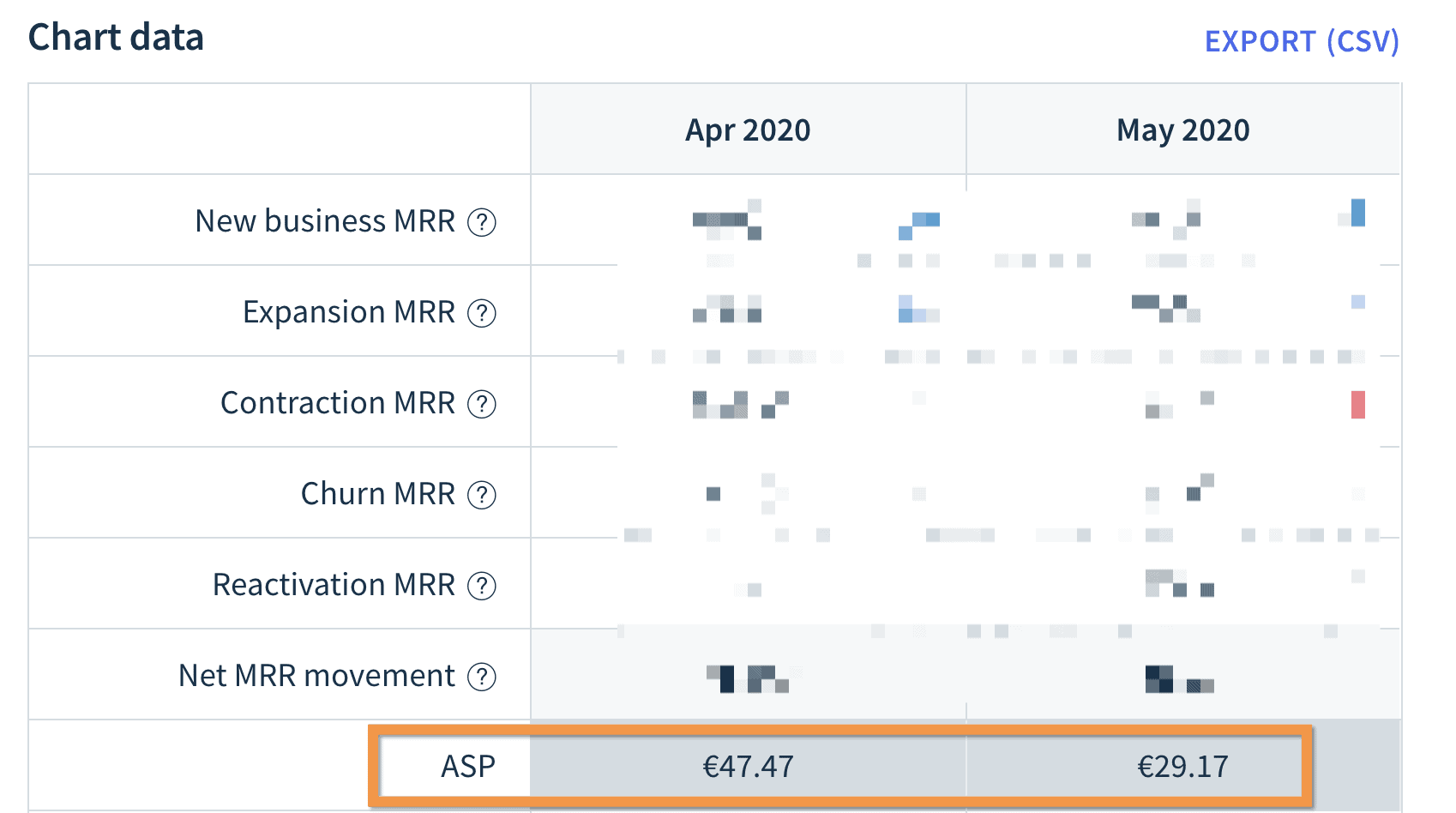 (B) We are still not actively growing our MRR as we don't engage in any type of growth activities until July 2020. That means no PPC, no retargeting, no outreach, no new articles, and no new YouTube videos.
Everything we do currently is 100% organic & inbound. This will change from July 2020 onwards when we launch our growth campaigns 🙂 (first real results are to be expected in autumn 2020..)
We are trying to improve our Transparency Reports every month and become a more real & transparent team. And that is why this report covers a new metric: Churn 🙂
At Wild Audience we are looking at Net MRR Churn Rate which is the rate at which you are losing MRR through downgrades and cancellations, offset by expansion and reactivation MRR.
In the screenshot below you can see that in the first 3 months of 2020, we still had a positive Net MRR Churn Rate – which was not so good. That was mostly due to missing features which customers wanted. We built them and shipped them at the end of Q1 and you can see the results 🙂
We are now at a negative Net MRR Churn Rate which means that even if we would stop adding new business every month we would still slightly grow.

A negative Net MRR Churn Rate is a great foundation for our growth campaigns coming soon 🙂
Customer Success
Here, we talk about you guys because you are the most important people in our business (always!).
In May we had a total of 218 conversations (313 in April) with 185 customers (212 in April).
As you can see that these numbers have decreased since last month and that can be explained by two things:
(A) We have recently been working on the content of our Help Center (design is a work in progress ..) improving our existing articles and creating new ones to make sure you are as independent as possible.
(B) We have shipped a lot of new features (discount, cancellation, .. etc) and improved our billing system in Wild Mail last month to make your life easier.

You seemed pretty happy in May as you guys gave us a 91% happiness score so thank you! 😍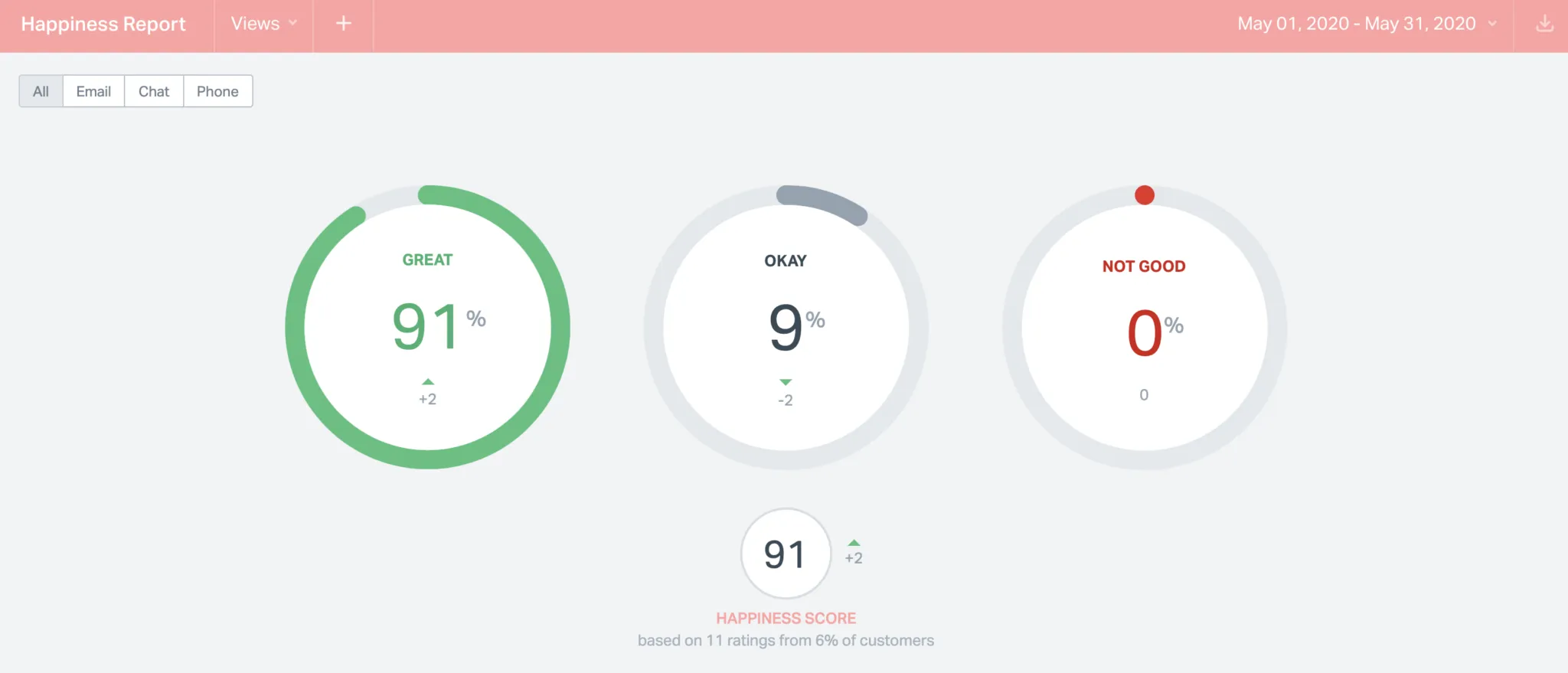 As you know, one of the most important metrics for us when it comes to Customer Support is our "First Response Time" aka how long it takes us to respond to the initial ticket. We aim to have a "First Response Time" between 4-5 hours and we constantly monitor it.
The main factor that seems to influence this metric is holidays, as reflected by the data.
With no holidays in the last two months combined with our efforts to help you succeed, I am happy to say that in May 2020 our "First Response Time" was at 3h46.
To give you an idea, our First Response Time for the last two months was:
Our customers keep sending us some love via video customer testimonials which we really appreciate. We publish all of them on our love page and on our Instagram account.
In May we received 2 new video testimonials 🙂. 
Product
May 2020 has been a fascinating month in terms of product. While April marked an important month for Wild Mail, May was all about Wildmetrics.
Here's a quick introduction to both products...
Wildmetrics is ROI tracking software that enables companies to grow their business more profitably by showing them what campaigns, funnels & channels generate higher ROI and which don't.
Wild Mail is our marketing automation software that enables companies to grow their business by building authentic relationships with marketing automation.
While Wildmetrics (WMX) is currently under development and not available yet, Wild Mail (WM) can be checked out here.
Wildmetrics (WMX)
Let's start out with WMX. The new kid on the block 😉
This project is especially fun & cool for our team because we are building a new software product 100% from scratch. I have never done this before and I am happy like a kid about all the new things I am learning 🙂
A challenging element is the novelty of the approach of our solution. Compared to standard analytic tools like Google Analytics or Facebook Analytics, we integrate with your marketing tools natively & use a tag-based tracking approach as our source of truth to not rely on inaccurate cookies or UTM tracking links.
That's one of the main differences.
We do this because we believe that accurate data is a foundational necessity for growth. And your current data – coming from all kinds of tools like Google Analytics, Stripe, Accounting, Calendly, ActiveCampign, Facebook Ads, and Google Ads etc, are all painting a different picture.
How frustrating and difficult to work with.
Here's what our developer (Leo) and myself have completed this month...
I did a lot of different kinds of research: Customer, Problem, Solution, Infrastructure, Competitor, Market, MVP & Product research.
Here's an overview of my notes in Notion to give you an idea of how I organised this project & my thoughts.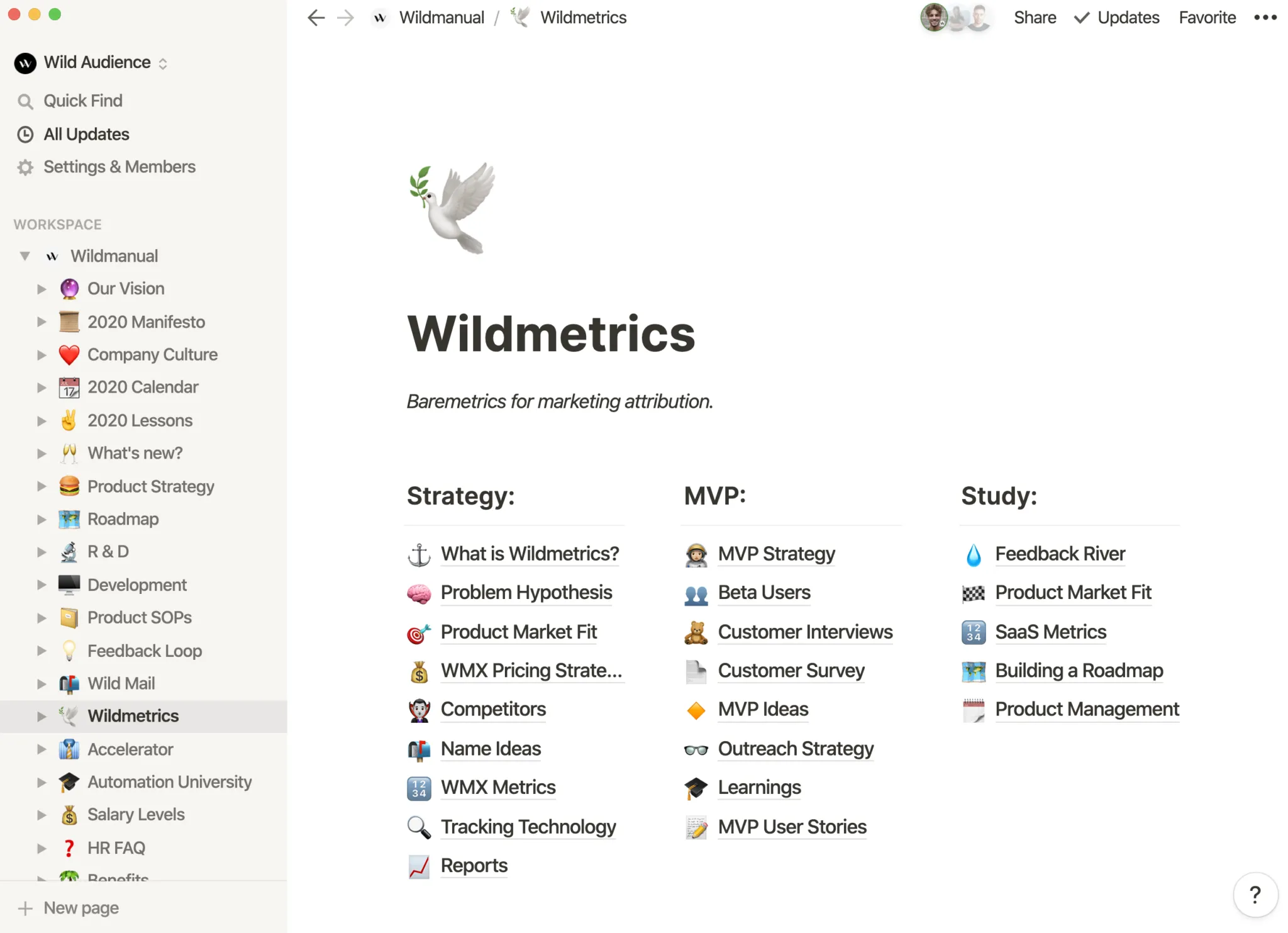 After defining our problem hypothesis and doing all the research, I defined our MVP.
The MVP (WMX V1.0) can be described in two words: Tag Analytics.
Here's what you can do and what it solves: Integrate your Wild Mail account and Stripe account. Then see your revenue data per tag.
Here are a bunch of fun use cases:
See collected revenue per lead magnet for a specific time period

See revenue per Facebook ad campaign for a specific time period

Learn about the probability of people who purchased product A, also purchasing product B

Know how many leads within a specific time period schedule a sales call

Know how many customers you get from lead magnet A within a certain time period and compare that result to customers generated through lead magnet B

Know the sales cycle length of one of your products
Remember: WMX does not use UTM links or pixels to show results. But instead, we rely on a way more accurate data point – tags.
WMX V1.0 will be on invite only. There are three requirements to start using WMX:
You need to have a Wild Mail account

You need to have a Stripe account

You need to be willing to share feedback with us (so that we can build WMX V2.0)
If you're interested in WMX & you currently have an ActiveCampaign account, you can start using ActiveCampaign through Wild Mail here (it also includes 4 additional benefits which you can check on that page).
Here's how & in which order we add things to WMX (at the time I write this):
WMX V1.0 (Alpha): Tag Analytics with Wild Mail & Stripe

WMX V2.0 (Beta): ROI Analytics with Wild Mail, Stripe & Facebook Ads

WMX V3.0 (Public): We will add ESP Analytics as well as an ActiveCampaign integration

WMX V4.0: We will add Funnel Analytics and Google Ads integration
The above is obviously subject to change and will be updated as we learn.
Our technology stack for WMX will be based on the Jumpstack philosophy. We will also be using a cutting-edge framework called RedwoodJS.
Redwood is an opinionated, full-stack, serverless web application framework that works with React, GraphQL, and Prisma.
I kept this overview quite general on purpose. I am a little unsure how much you guys are interested in the details of this 😉
Alright! That's all about WMX. Let's continue with WM now.
Wild Mail
Wild Mail is in partnership with ActiveCampaign. So, if you currently have an ActiveCampaign account, you can use AC through Wild Mail to get our benefits:
Free ROI analytics features (Wildmetrics)

One month paid by us (click here to learn more about this)

Our unique method & templates

Automation University discount
Here's a list of new WM features added in May:
Freshly re-designed & added new functionality of iOS and Android apps (article)

New integrations added: Slack, Twilio, Nimble CRM, Google Contacts

New Marketplace to find automation templates (article)
Remember: Wild Mail is powered by ActiveCampaign but offers added functionality like ROI tracking.
Automation University
In May, we launched Automation University! Juhuu!
Automation University is an online university that teaches entrepreneurs how to grow their businesses by building authentic relationships with marketing automation.
Here's what's included for €25/month: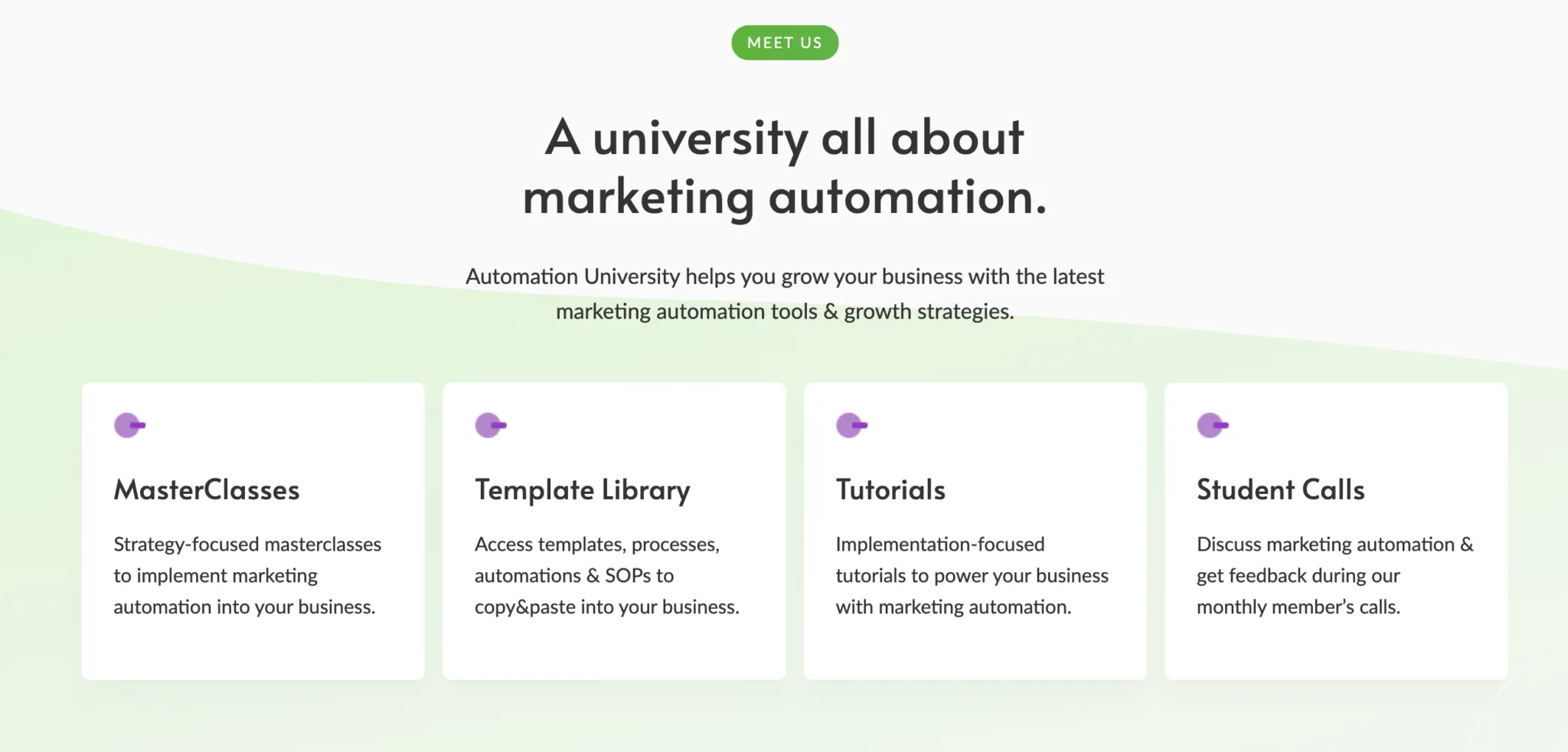 The launch was super fun and we took a slightly different approach. Here's what we did…
We sent two pre-launch emails to identify interested people (based on clicking and replying). People who engaged received another 3 emails within 4 days.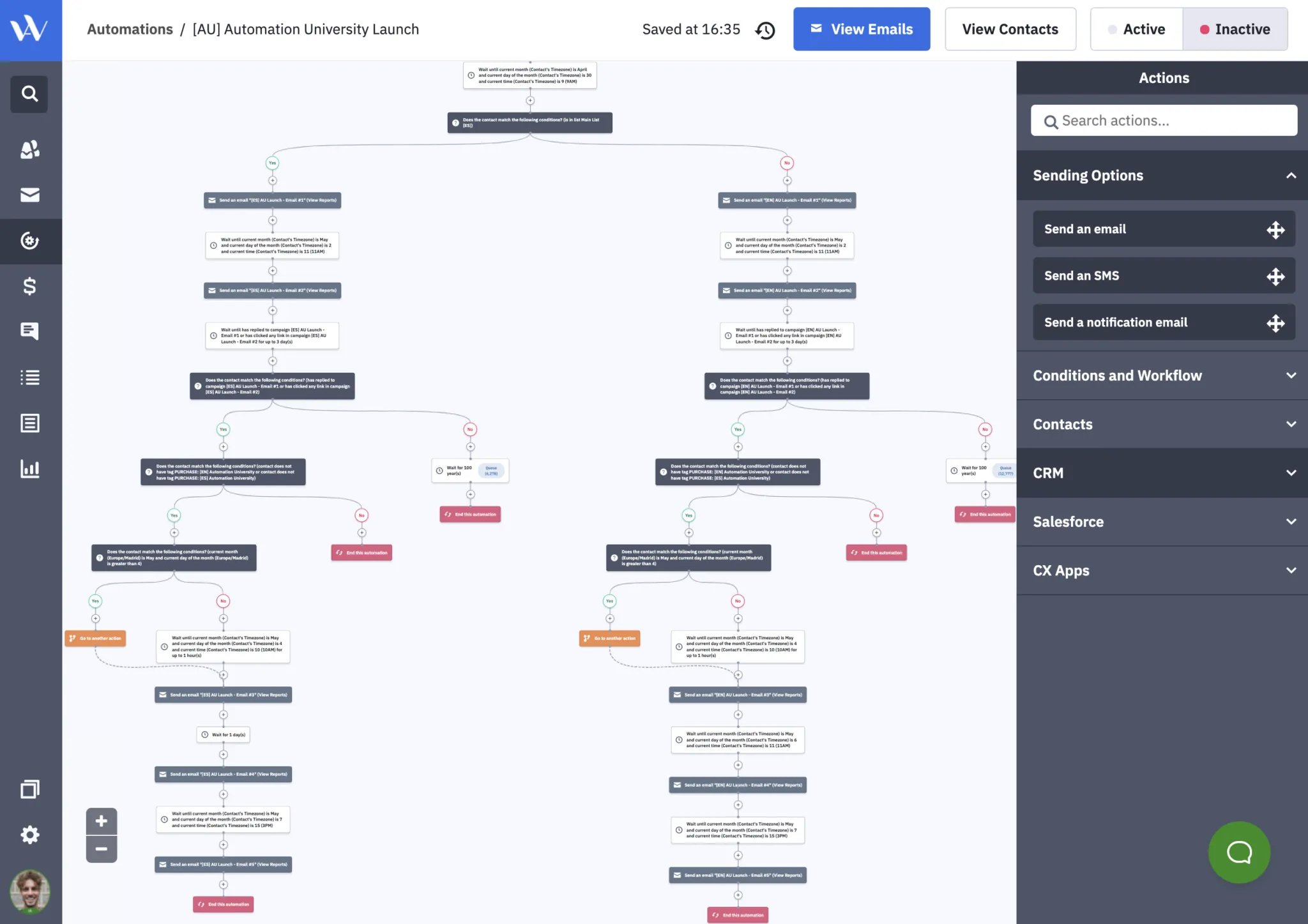 351 people took part in the launch (identified as highly interested).

So our sales conversion was 13.11%.
That's €13,800 in ARR added every year. A good foundation now is to start growing AU in an evergreen way as a supportive educational product to Wild Mail and Wildmetrics.
Our goal with AU is not to make money per se but to help our customers grow their business (because we make our money with WM & WMX).
Ok, let's move on to marketing now...
Marketing
Safe to say that things haven't really changed as we added 154 new leads to our list this month which is pretty much the same as last month.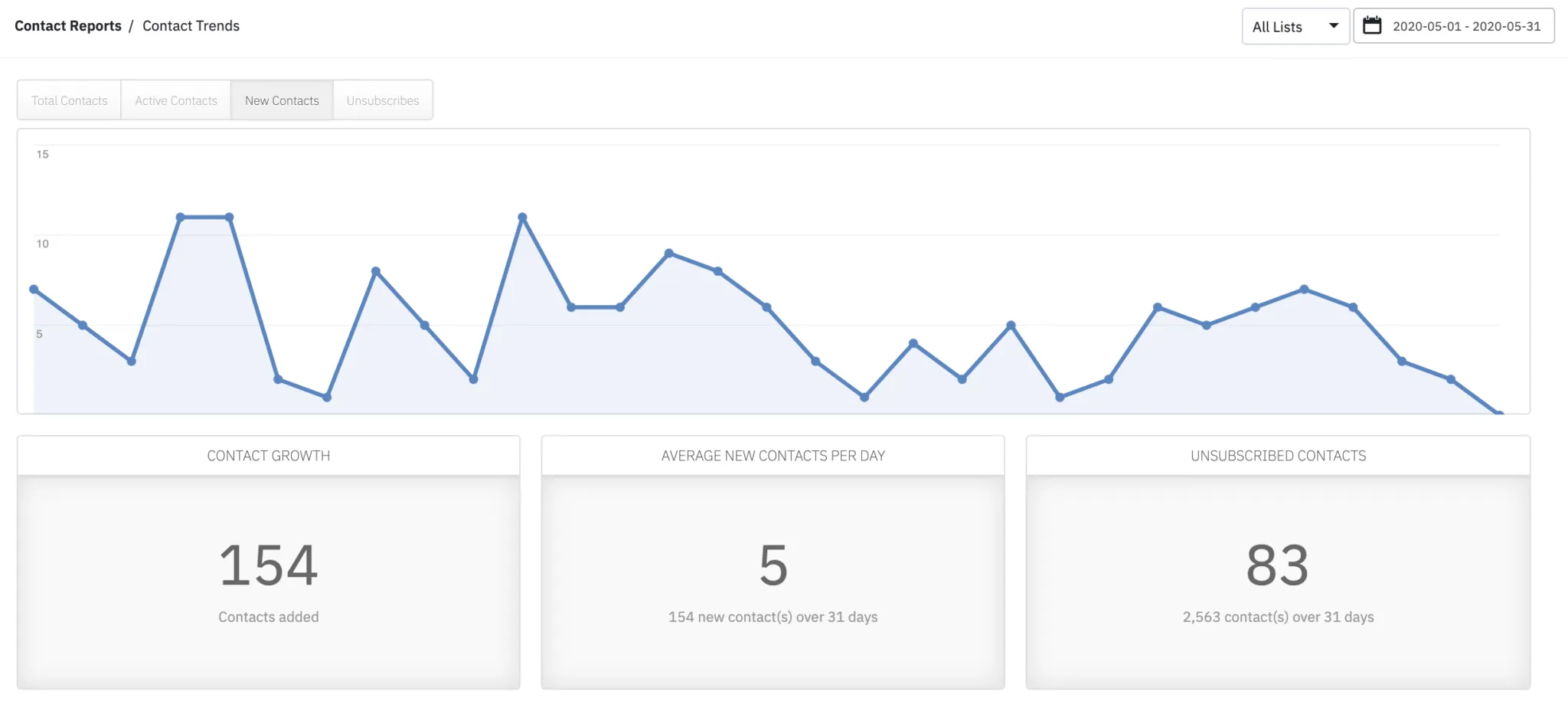 As you can see down below, our entire traffic is organic inbound traffic:

Relationship Funnel Data:
Let's break down our funnel for May 2020. Remember this data is not 100% accurate because in order to get this data accurately you either need to pay for a REALLY expensive custom solution implemented by a big data agency (and the data will still be inaccurate because they use pixels & UTMs) or you use Wildmetrics (which will be using a tag-based approach and will finally provide real & accurate data in real-time).
Which other marketing company shares that kind of data publicly? 😉
But keep in mind that this data is not accurate because it's not a cohort analysis. For example, the 44 new trials could come from the 154 new leads we added in May but they could also come from leads from previous months. In order to get accurate data, we and you need Wildmetrics 😉
Let's talk about the improvements we will have to make soon. Clearly, our weakest point is our ability to capture leads. The conversion rate from website visitor to lead is low (3.69%). This is due to three reasons:
We don't have any type of retargeting in place to re-engage visitors

Our blog post content upgrades are still "under construction" as we switched from SurveySlam to ConvertBox recently

Our whole blog will be re-designed and our CTA approach will be different (more about this in a future report)
Lead-to-trial & trial-to-customer conversion rates are great. Our benchmark for both KPIs is 15% and we doubled this. Our Relationship Funnel is clearly working.
Founder Talk
In summary, the month of May was not our biggest growth month but still a great month in so many other ways. We launched Automation University, which will be a great education vehicle for our customer base, as well as started the development of Wildmetrics which is super exciting.
We also did our mid-year team retreat – this time it was virtually due to corona times. It was shorter than normal and 100% focused on strategy, reflection & future.
We usually start out by beaming back to our last quarterly team retreat. We go over the goals we set out for ourselves and see what we accomplished and what changed. We then continue to reflect on all the lessons learned before we start planning the next quarter. We always do our quarterly retreats in the 2nd month of the quarter so that we still have one month to change directions – if needed – before the next quarter begins.
After the retreat, I also did 2.5-hour 1:1s with each team member to really go deep into their purpose, goals, feedback, dreams, team, company strategy and ideas to make sure we as a team are super aligned and happy.
As the CEO of the company, this is really important to me and close to my heart. Without the team, Wild Audience would not exist. I get a lot of joy from seeing team members develop their characters and learn new things. I, myself, also learn so much through each team member.
For us, emotion check-ins, feelings check-outs, sharing circles and reflection are really core to our culture. And I am happy to share that we as the Wild Audience team are super focused, and healthy and work with great motivation towards helping our customers grow their business with marketing automation 🙂
Outlook
A few exciting things are coming up in June!
June will be our last month working on foundational projects. And we are so excited about this! You can look at our public roadmap to follow along in real-time on how we as a team progress.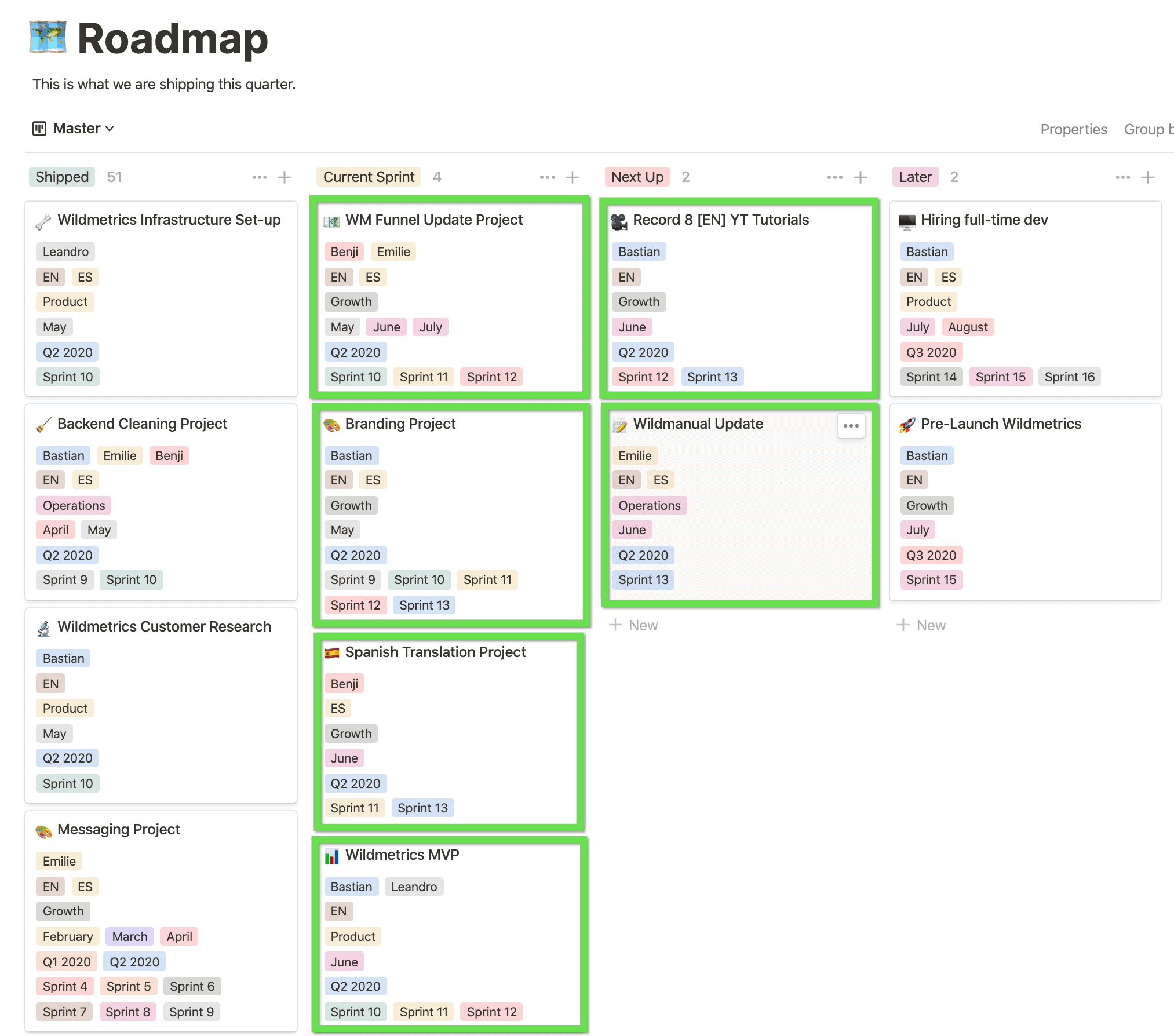 In June we will work on the projects circled in green colour.
After our team retreat, we came to release that our emails to sell Wild Mail did not reflect our most recent messaging and positioning ("building authentic relationships with marketing") so we decided to re-do our funnel from scratch (new lead magnet, new lead to trial RBS, new trial to customer RBS, new customer onboarding experience and new customer success experience).
We will ship all of this by the end of June 🙂
We should also be able to go live with the first version of Wildmetrics and get the first users to play around.
Benji will be looking for a new translator to make more of our English content available in Spanish while Emilie will finally update our Wildmanual (the place with all our knowledge) and I will record 8 new YouTube tutorials which will be published in July & August.
Besides that, I will also look for a new UX designer & illustrator to work on a new look and feel for our brand Wild Audience. If you know anyone, reach out to me via Bastian at wildaudience dot com.
Things we will design over the summer:
UX Mockups for Wildmetrics

New graphics for our website

New page designs for a few key pages on our website
Another big month is ahead of us. We are definitely going in the right direction so we are pretty excited about what's to come.
See you in our June 2020 Transparency Report 🙂